Reading the Year Ahead for Cancer
A tarotscope is a horoscope that uses tarot cards to guide the astrological divination and help focus it for the reader. Here I've pulled three cards to illuminate what's coming up in 2023 for Cancer.
January to April: The World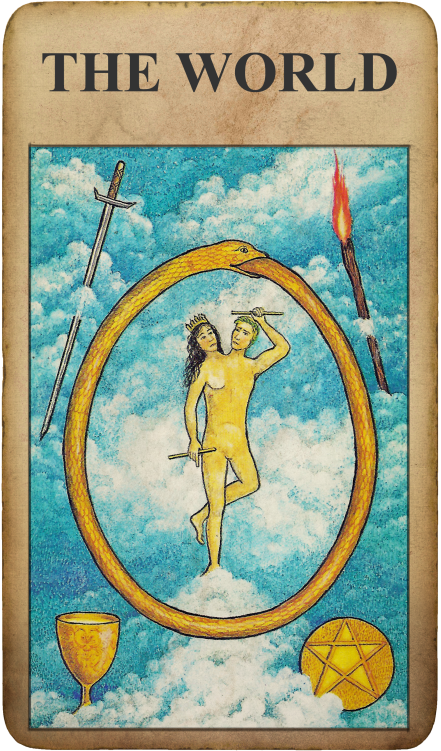 The World card shows how when one thing ends another one starts. Anything is possible in the opening months of 2023 for Cancerians. There is a sense of closing things down in preparation for new beginnings. A huge sense of excitement and planning. You can truly appreciate the energy of the new beginnings. People crossing your path in these months seem to be influencing you and feeding your ambition. The beauty of making big changes in the early part of the year, is that you have time on your side, which will ease the pressure. So, open your heart and mind to new and wonderful opportunities, and you will attract them to your path. When you put good emotions behind your dreams, they soon start to become a reality.
May to August: Eight of Pentacles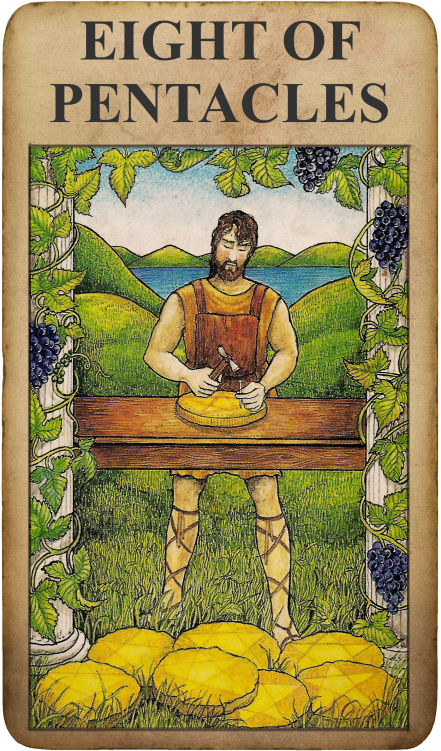 The Eight of Pentacles card focuses on your unique gifts. The middle of the year seems to be a very busy time for most Cancerians, but one that you will gain a great deal from. There is a very productive sense to your path at this time. Cancerians work on emotions. So, give yourself a happy target, and watch how your skills burst into action. You have the ability to make wonderful things happen with less effort than most once you have your heart set on a goal. These four months are a great time to let the ambitious dreamer in you go wild. Then the claws of the Cancer crab can easily cut through any obstacles which will try to stand in your way. Mid-year is a wonderful time for you to overcome any obstacles and turn struggles into achievements.
September to December: Ten of Cups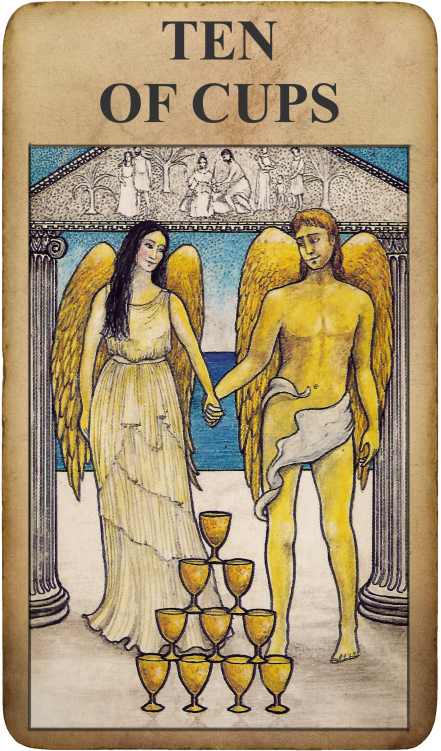 The Ten of Cups card showing up for the last four months of the year indicates it will be a time of emotional bonding. Cancerians are emotional beings, so anything to do with the heart, always takes priority with you. It's a time of celebration for many, where good news regarding family and friends reminds you just how lucky you are to have them in your life. Everyone suffers loss of loved ones at some stage of their life. The key to dealing with this, is showing your loved ones how much you appreciate having them in your life. Especially when there is no other reason to do so, but that you can. The closing months of 2023, show lots of happy emotions around many Cancerians. Reach out and enjoy the wonderful circle of love in your life, and seek to grow that circle even further. Happiness is high on the agenda.
Considering getting a tarot card reading? We have carefully screened and selected a range of gifted, compassionate tarot readers to provide clarity and new insights into your life. Online readers available 24/7.
Read more 2023 Tarotscopes:
Aries, read your 2023 horoscope
(March 21-April 19)
Taurus, read your 2023 horoscope
(April 20-May 20)
Gemini, read your 2023 horoscope
(May 21-June 20)
Leo, read your 2023 horoscope
(July 23-August 22)
Virgo, read your 2023 horoscope
(August 23-September 22)
Libra, read your 2023 horoscope
(September 23-October 22)
Scorpio, read your 2023 horoscope
(October 23-November 21)
Sagittarius, read your 2023 horoscope
(November 22-December 21)
Capricorn, read your 2023 horoscope
(December 22-January 19)
Aquarius, read your 2023 horoscope
(January 20 to February 18)
Pisces, read your 2023 horoscope
(February 19 to March 20)
As the 7th Son of a 7th Son, Vincent was born a Psychic, Clairvoyant and Healer according to Irish folklore. For decades, Vincent has used his gifts to help people from all walks of life find clarity, direction and purpose. Now he can help guide you.