'Hot Convict' Jeremy Meeks Wife Says She's Filing For Divorce After Instagram Post
Jeremy Meeks was photographed kissing and cuddling Topshop heiress Chloe Green last week and it looks like so-called "hot convict" Jeremy Meeks is about to be "hot divorcé." The male model, who became famous after his mugshot went viral in 2014, was photographed kissing and cuddling Topshop heiress Chloe Green on a yacht in Turkey earlier this month. In an exclusive interview with his wife of eight years Melissa Meeks says their marriage is over. "He kept saying, 'I'm sorry, you didn't deserve this,'" the mom-of-three said of the in-person confrontation she had with her husband. "We talked about divorce. I told him I didn't think the marriage could be saved. He agreed. The marriage is over." Melissa who still has "wife to Jeremy Meeks" in her Instagram bio, said she learned about the photos through a direct message from a stranger. "I went into shock. I felt nauseated. It was like a bomb had gone off and my whole world had been blown apart. I'd never heard of Chloe Green. I thought Jeremy was working." After the yacht pics went viral, Green the daughter of British billionaire Sir Philip Green, posted a picture of the pair on Instagram.
#"Just the Beginning… We appreciate the love and the hate," Green captioned the Instagram photo, which has since been deleted.
Another post on Instagram read:
#Oop! Jeremy Meeks aka #PrisonBae is unbothered w/his new alleged boo Chloe Green (he's married btw)
Meeks has had a successful modeling career since his release from prison in 2016. He was spotted hanging out with rapper Nicki Minaj and designer Philipp Plein at the Cannes Film Festival in May before heading to Milan Fashion Week. Though she mostly blames her ex for his behavior, Melissa doesn't excuse Green for the part she played in the divorce. "I know it takes two to tango but she knew he was married. To me, that's unforgivable. My whole world has been torn apart by this. What do I tell our children? My heart is broken."
She continued: "Of course I'm angry at her. What she did is unforgivable. And I'm angry at him too. What they did destroyed my entire world. Did either of them think about the children and how this will affect them? They're the innocent victims in this. And so am I." The pair have a 7-year-old biological son together and Melissa has an 11-year-old son and a 16-year-old daughter from previous relationships, who consider Jeremy a father figure. On the Fourth of July, Jeremy shared a photo of him spending time with his sons on Instagram.
Certainly, I Wasn't The Only One That Saw This Coming?
Susan Z's Conclusion:
It was a fabulous life break for Meeks when his life changed overnight because of his good looks. Unfortunately, now those good looks is exactly why his personal life will now sadly fall apart. Meeks has never been exposed before to the avarice rich who are born with a sense of entitlement and take what they want at whatever the cost. He now may possibly be able to add to his resume: "BoyToy".
Six of Pentacles:
This is card of sharing of love and gifts. I guess it is pretty self-explanatory at what Meeks is now doing with Chloe Green.
The Hangman: Inverted (Upside Down)
This is a card of victim energy, control and working on surrendering the past. Since drawn inverted, it shows Meeks is trying very hard to let his criminal past fall behind but also losing the battle to control the temptations of his new upscale, glitzy environment.
Four of Swords:
This is a card of emotional exhaustion and wanting to retreat within. I believe this is what his wife Melissa is feeling at the moment. I am sure she will charge up when her divorce attorney tells her what she can now expect as a settlement with his successful modeling career on fire versus of when Meeks was in jail, as they were separated then.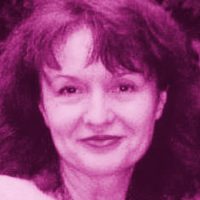 Susan Z Rich is an emotional addiction counselor, spiritual intuitive and holistic therapist. She counsels others to see life in a more positive way and teaches personal accountability for life choices. She is also the author of several children's books and Soul Windows…Secrets From The Divine.