Kylie Jenner of the Kardashians To Get Her Own TV Reality Show
Kylie Jenner, If you can't get enough of her on social media, now you can find out even more with the 'Life of Kylie' docuseries coming this summer. E! has confirmed that the youngest of the Kardashian-Jenner clan is getting her own reality show. The eight-episode docuseries will premier, likely after the season 13 finale of "Keeping Up with the Kardashians." The 19-year-old Kylie will also be executive producer. Jenner, who's certainly no stranger to the cameras, will be shown navigating through her unique life as an entrepreneur, fashion designer, author, television star, style icon and CEO/Founder of Kylie Cosmetics," according to a press release. The show will also of course spotlight her personal life, which means plenty of Kardashian family drama, on-and-off boyfriend Tyga and poolside bikini photo shoots.
"The last couple years have been such an incredible journey with the support of my fans," Kylie said in a statement. "This show will allow me to give them a peek inside all of the exciting things I am working on as well as some personal time with friends." "Kylie's beauty, business savvy and fashion icon status have made her one of the most famous and successful young woman on the planet," said E! "Kylie has achieved so much at such a young age and we know the E! audience will be thrilled now that she is ready to share an inside look at her everyday life." It makes sense that the cable network behind Keeping Up with the Kardashians would want to showcase Kylie with her own reality show, given her ongoing success as an entrepreneur and social media star (she has 91.1 million Instagram followers and 20.2 million Twitter followers. It's no wonder online fashion database Polyvore named Kylie, who's known for her skintight style, ever-changing hair and pouty lips, the most-searched-for female fashion icon of last year. She earned $18 million in 2016, making more than her mom Kris and her sisters.
Will Kylie's Spin Off Reality Show Be as Successful as The Kardashians?
Susan Z's Conclusion
Queen of Pentacles: Inverted (Upside Down)
This card represents a woman where status is important (you think?). As it is inverted, it shows that possibly this persona she presents now as a young woman may not be what she really wants in life but the opportunity is there so she will take it. I feel her show will evolve into other reality opportunities as she is new and fresh.
Eight of Swords: Inverted
This card represents fears keeping one bound and being inverted shows she is breaking out on her own and coming out of her family's big shadow. My guess is she felt like the "ugly duckling" of the family and now is a break out beauty and going to make the most of it.
Ten of Wands:
This card represents carrying a heavy burden. As I stated above, I am not sure this is her true heart's calling but an opportunity to compete. I feel eventually the responsibility of overextending herself will take its toll on her as she tries to keep up with her family's fame in her own right, which might lead to personal issues.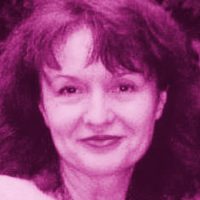 Susan Z Rich is an emotional addiction counselor, spiritual intuitive and holistic therapist. She counsels others to see life in a more positive way and teaches personal accountability for life choices. She is also the author of several children's books and Soul Windows…Secrets From The Divine.