Choose Your Tarot Card
Here is your interactive tarot reading for today. Look at the image above and relax, focus on the first card that draws you in and that card will connect with your personal energy.
Ready?
Once you have picked your card, you can scroll down to see it revealed then read the information for the week that carries your journey with it.
*
*
*
*
*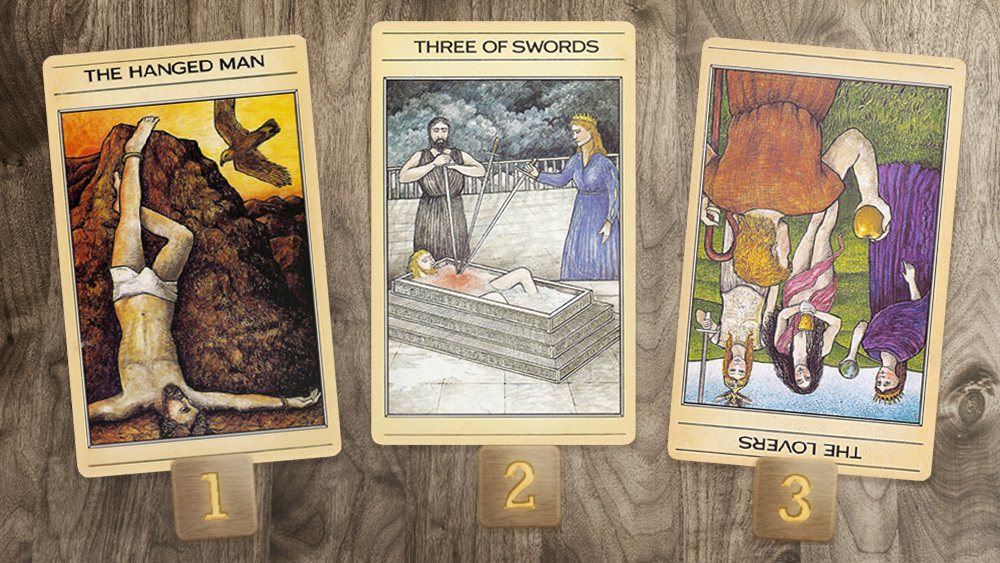 We have a Full Moon today, August 3rd, in Aquarius. This August full Moon is traditionally called the Sturgeon Moon from Native American fishing lore. This Full Moon and a few days after, will be an emotional time with romance in the forefront and all personal relationships that brings progress and change. Today would be a good day to ask yourself if forward movement is necessary in any area of your life and listening to your heart and not your ego's needs?
Story continues below…
Considering getting a tarot card reading? We have carefully screened and selected a range of gifted, compassionate tarot readers to provide clarity and new insights into your life. Online readers available 24/7.
Tarot Card Draw #1: The Hanged Man
I usually look at this card as a 'heads up' to examine how you are dealing with your emotions about yourself and others. Is it from a place of defense or a place of self-contained knowing? The Hanged Man is representative of holding onto the limiting past, tripping up your present potential for love, career success, prosperity, joy and a healthy presence. Always feeling like you got a raw deal in life, signals that you have created a pattern of my favorite saying; "Wherever YOU go, there YOU are!" Meaning, regardless of what you are experiencing, if you repeatedly end up in the same unhappy place and on the short end of having a great life, YOU are the key element that travels from one situation to another. It may be a good day to take a deep to see if you are owning your choices or blaming others and life in general for your disappointments.
Tarot Card Draw #2: Three of Swords
If you have chosen the Three of Swords for today, it may be a message that it's time to let go of what is making you feel sad or melancholy. Regardless if it is the past, present or future that you feel the light has been taken from you, this is a reminder from the universe that sometimes life does not unfold as we hoped it would. If you hold onto the energy of past loss and disappointment for too long, it changes your physical imprints. You will then find it harder to remember the joy, success and happiness that you have experienced. You begin to think and feel you will always be in a dark place. Life moves in cycles, lessons, ups and downs as you travel your soul journey. If you have been hurt or disappointed; absolutely feel it and then ask all the powers you pray to; giving you the strength and courage to take an optimistic step forward. And not look back to fall prey to the 'God Awful Wonderful Pity Party' for an 'extended' length of time. Pity parties are good occasionally; it actually feels good just to 'boo hoo' your disappointment away. But it should be an intermittent stopping place, then count it out… 1, 2, 3, 4, 5 and go and do something happy! That small happy moment will be contagious for your psyche and work at keeping you out of the blame game, pity soup, and the ego's favorite game… 'planning revenge on someone.' Total waste of your energy when you could be focused on feeling joy again. It's a tough period of time we are all going through now, but today is as good as any day to make the conscious effort to not let the shadow side rule your day.
Tarot Card Draw #3: The Lovers (Reversed)
The Lovers is a great card to draw, carrying with it all the potential of what comes with intimate relationships. Whether it be a new one that is about to arrive, addressing the relationship you are in or cutting emotional ties with an ex to bring closure for your peace of mind. Stay alert to those subtle memos from your higher self. Thoughts and suggestions that will direct you to make different choices where love is concerned. Looking at your own reflective definition of what giving love and being loved is to you is always a good place to start.
Considering getting a tarot card reading? We have carefully screened and selected a range of gifted, compassionate tarot readers to provide clarity and new insights into your life. Online readers available 24/7.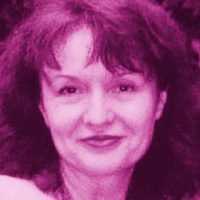 Susan Z Rich is an emotional addiction counselor, spiritual intuitive and holistic therapist. She counsels others to see life in a more positive way and teaches personal accountability for life choices. She is also the author of several children's books and Soul Windows…Secrets From The Divine.