Choose Your Tarot Card
Here is your interactive tarot reading for today. Look at the image above and relax, focus on the first card that draws you in and that card will connect with your personal energy.
Ready?
Once you have picked your card, you can scroll down to see it revealed then read the information for today that carries your journey with it.
*
*
*
*
*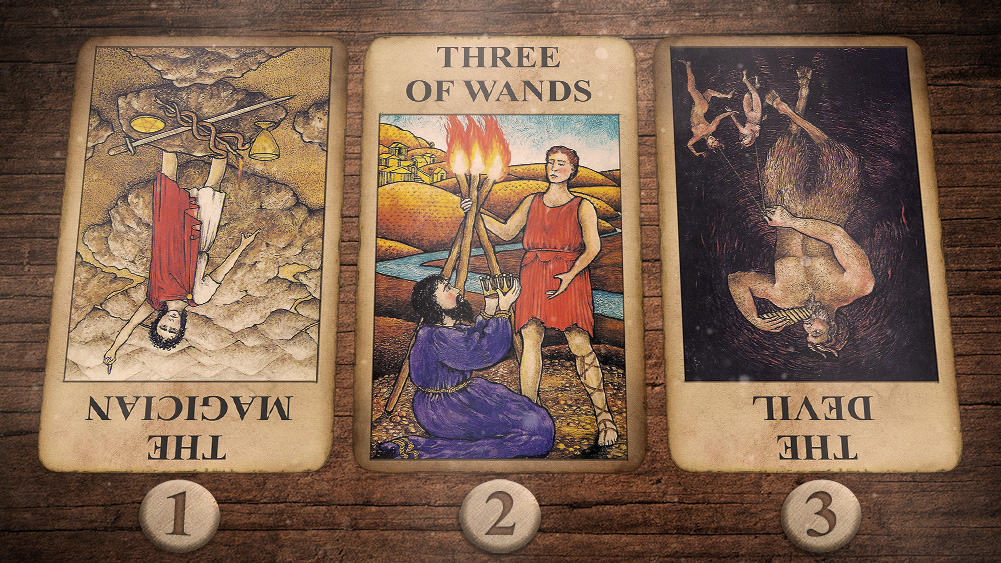 Story continues below…
Considering getting a tarot card reading? We have carefully screened and selected a range of gifted, compassionate tarot readers to provide clarity and new insights into your life. Online readers available 24/7.
Tarot Card Draw #1: The Magician, reversed
The Magician tarot card is much like life in that it can sometimes represent magic as being slight of hand. When it comes up reversed for you in a daily draw, it urges you to proceed with caution, especially when dealing with someone of questionable character. One of the other things The Magician, reversed, urges you to be on the lookout for is opportunity. This card indicates hidden opportunity and unexplored options available to you. It urges you to have confidence in yourself and your abilities, knowledge and skills. Stop comparing yourself to others and know that you deserve what is due you and that you are capable of so much more than you give yourself credit. If there is a particular job you desire but feel you are underqualified, put in for it anyway. You stand to lose nothing by at least trying and may be very pleasantly surprised. If you have been considering asking out your cute neighbor but fear you do not measure up, take a chance anyway and put yourself out there. Again, you have nothing to lose. Maybe they will accept, maybe they will not, but at least you tried. Reversed, The Magician also may turn up for your daily draw to warn against someone in your energies who does not have your best interests in mind. This would be someone looking to use you or take advantage of you in some way. This card serves as a warning about greedy and/or deceitful people around you.
Tarot Card Draw #2: Three of Wands
If you are seeking guidance on a current romantic connection, The Three of Wands is a great card to draw as it signifies you have been making the right choices of late or that your current romantic connection is headed in the direction and possibly advancing to the next level soon. Your relationship is strong, solid and just going well. Do not question things but rather have faith and confidence in yourself and your romantic partner. Other indications of the Three of Wands are traveling or outright moving to a foreign country. This card could also speak of a current or soon to be coming long-distance relationship, either romantic in nature or a strong friendship or even maintaining family connections while living abroad or at a great distance. It is possible the Three of Wands is talking of stepping into a new long-distance relationship, a brief holiday fling or making a romantic connection with someone in a foreign land. If you are not currently in a romantic relationship, the Three of Wands indicates the joy and freedom of spreading your wings so you can fly high and just enjoy not being tethered to any other person right now. You are feeling strong and have much confidence in yourself and your choices. This is the time to form a solid plan and move forward knowing that things will ultimately work out exactly as they are meant to.
Tarot Card Draw #3: The Devil, reversed
If you have somehow become aware of some negative behaviors on your own part such as indulging in escapism through excessive drinking, drug use, overeating or any other self-destructive behavior and are desiring to change, The Devil falling reversed in your daily draw is here to tell you the process may be easier than you think. The card heralds an awakening of sorts in that you are becoming aware of how you may be sabotaging yourself in some way or hampering your own progress. Through this awakening, you will come to realize your own role and that you have much more power to implement positive change than you realize. In addition to self-destructive behaviors, The Devil, reversed, may come up for you to help bring your attention to mental illness. Sadly, those suffering with mental illness, especially more severe cases, are not really aware of the situation or are in denial. This card may turn up to alert you to what is going on and help make you aware that help is available to you. Also, if you find yourself in a seemingly helpless situation such as domestic abuse, homelessness, etc., this card indicates that the situation is not quite as hopeless as you may be thinking. Resources are available to you if you look around, do some research and talk or network with others who could point you in the right direction. If you have recently had a near-miss or avoided some kind of danger, don't let it go to your head and make you complacent. Appreciate your good fortune and be vigilant going forward lest you fall back into old, negative behaviors.
Considering getting a tarot card reading? We have carefully screened and selected a range of gifted, compassionate tarot readers to provide clarity and new insights into your life. Online readers available 24/7.